Dean of Faculty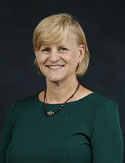 Welcome to Miami Dade College-Hialeah Campus and thank you for choosing us to help you reach your educational goals. We have credit and non-credit programs to serve you whether you want to complete a short-term program or earn a bachelor's degree. Our dedicated advising team will help you find the perfect plan for you, and our talented faculty will guide your educational journey.
Beyond the classroom, we offer peer mentoring in the SCHOLARS program and tutoring in the Learning Commons. You are invited to to engage in undergraduate research and present your work at the Interdisciplinary Symposium in the spring of every year or to publish an article in Polygon, the college's only digital journal. If you want to develop leadership skills while making the world a better place, you can be a part of the MDC Empowered network.
Ask for more information about any of our opportunities at the Information Desk or by calling (305) 237-8700.
I wish you the best in achieving your dreams.
Kind regards/saludos cordiales,
Dr. Michelle Ploetz
Dean of Faculty