---
Features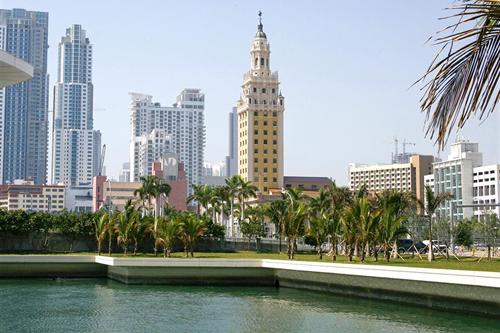 Beloved Landmark Earns Accolades
In recognition of its historic preservation endeavors, Miami Dade College recently received the 2012 Annual Preservation Award from the Dade Heritage Trust for the College's restoration of its iconic Freedom Tower.
Modeled after the bell tower of the Cathedral of Seville, the Freedom Tower was also recently selected by the Florida Association of the American Institute of Architects (AIA) as one of the top 100 Florida buildings that represent the best in architectural achievement.
Prominently positioned on Downtown Miami's main thoroughfare, Biscayne Boulevard, the majestic Freedom Tower, which was designated a National Historic Landmark in 2008, was constructed in 1925 as a home for the Miami News. Throughout the course of the 20th century, the Freedom Tower developed a storied history, becoming synonymous with freedom and serving as a symbol of hope for hundreds of thousands of refugees who arrived on the shores of Miami during the Cuban exodus from 1962 to 1974.
Since the Pedro Martin family gifted it to the College in 2005, the Freedom Tower has been and continues to be MDC's prime exhibition venue, featuring numerous events and the work of acclaimed artists, including the complete etchings of Francisco de Goya y Lucientes, Read My Pins: The Madeleine Albright Collection and The Killing Machine & Other Stories installations by Janet Cardiff and George Bures Miller, among many others.
— MR
More Features Articles