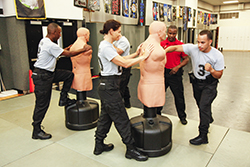 The Basic Corrections Academy is 420 contact hours. On graduation and passing of the State Officer Certification Examination, you are considered a certified correctional officer.
| | |
| --- | --- |
| Program Code | 50721 |
| Duration | Approximately 3 months |
| Hours | Monday – Friday, 8:00am to 5:00pm. Firearms training will be from 2:00pm to 11:00pm |
Minimum Qualifications
Applicants for a basic corrections training program must:
Be at least 18 years of age
Be a United States citizen
Have a high school diploma or equivalent.
Be of good moral character as defined by 11B-27.0011 of the Florida Administrative Code.
Have not been convicted of any felony including a "withholding of adjudication" nor convicted of a misdemeanor involving perjury or false statement. Any and all arrests will be reviewed by the School of Justice.
Submit to a physical examination, including screening for illegal substances by a licensed physician
Have a valid Florida Driver's License
Submit to a criminal history verification.
Have not received a dishonorable discharge from any of the Armed Forces of the United States.