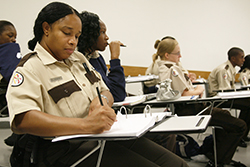 GENERAL LAW ENFORCEMENT BAT INFORMATION
Miami Dade College Assessment Center no longer offers the Florida Basic Abilities Test (FBAT). Law enforcement and correctional officer applicants are required to Pass the FDLE Basic Abilities Test Exam, or provide proof of exemption from Pearson VUE.
EXEMPTION INFORMATION
Per Florida State Statute 943.17(1)(g):
"A person is not required to take the basic skills examination and assessment instrument before entering a law enforcement officer basic recruit training program if he or she is a veteran as defined in s. 1.01(14) or holds an associate degree or higher from an accredited college or university."
Law enforcement or correctional applicants must log into the Pearson VUE website and create a user account. As part of this account creation process, applicants will answer questions regarding 1) veteran status and 2) whether they have earned an Associated degree or higher.
EXEMPTION DOCUMENTATION
Candidates claiming exemption for the BAT testing will need to ensure they provide the proper documentation if they are applying to the Miami Dade College, Basic Law Enforcement Academy (BLE) program:
Veteran Exemption Documentation

A DD214 form or other military documentation indicating an honorable discharge should be included when the applicant turns in his/her completed BLE application.

Degree Exemption Documentation

A copy of the Associate (or higher) degree and transcripts indicating the degree was conferred should be submitted to Miami Dade College at the time of admission to the College.
Note – If transcripts are sent electronically from another institution, it is the responsibility of the candidate to check with the Admissions Office at MDC to ensure they were received.
GENERAL TEST INFORMATION
The CJBAT, developed by Industrial/Organizational Solutions (IOS) Inc., measures the defined "minimum competencies" in three separately-timed section as follows: Section I – behavioral attributes, Section II – memorization, and Section II – written comprehension, written expression, deductive reasoning, and inductive reasoning. In total there are 97 questions on the CJBAT. To find out more information and register to take the exam, please visit the Pearsonvue website.
Applicants who took the Florida Basic Abilities Test (FBAT) at the Miami Dade College, North Campus before August 14, 2019 may request duplicate scores. FBAT scores are valid for four (4) years from the date that an applicant passed the test. Please call the Assessment Center at 305-237-1476 to verify that your previous passing score is still valid. 
Once you have verified that your score is valid, click on the "Request Duplicate Scores" link above to pay for your duplicate score and follow these steps:
STEP ONE – Complete all of the required fields on the form.
STEP TWO – Click on the "Submit" button once you have filled out the form.
STEP THREE – Log in to your email to verify your signature
STEP FOUR - – Call the North Campus, Bursar's Office to make your payment.
Bursar's Office Phone: 305-237-9310
*Select Option #1 for North Campus
Bursar's Office Hours: 8:00AM to 7:00PM
Mon – Thurs 8:00AM to 4:30PM Friday
STEP FIVE – Email a copy of the payment receipt you got from the Bursar's Office, to nac@mdc.edu and call our office phone number at 305-237-1476 for us to process your request.