Campus Information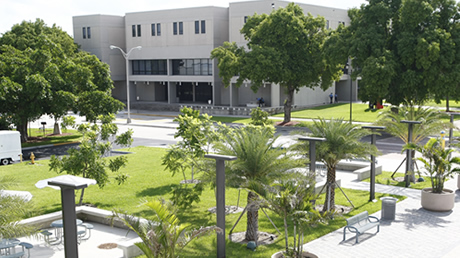 Where it All Started
Located on 245 acres in northern Miami-Dade County, this beautifully landscaped campus was the College's first. It was built in 1960 on land that once hosted a World War II Naval air station. The main academic buildings of the Campus surround a serene lake and lush walking paths.
Unique Programs
Home to the Schools of Science, Criminal Justice and Entertainment and Design Technologies and the College's Fire Sciences and Funeral Service Education programs, Miami Dade College's North Campus offers several unique opportunities that include bachelor's degrees in:
North Campus also administers the Carrie P. Meek Entrepreneurial Education Center, which promotes excellence in education, entrepreneurship, and workforce preparation.
Ready for the Future
In January 2010, MDC celebrated the official opening of the College's state of-the-art science complex at North Campus. The first of its kind in north Miami-Dade County, the 90,000-square-foot complex features 21 laboratories with media stations, a Palmetum, a roof-top observatory, classrooms, lecture hall, faculty and administrative offices, botanical garden, greenhouse, an outdoor plaza and a café.