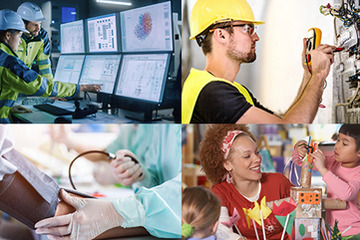 Employer Benefits
Customized training
Productivity from day one
Increased retention
Reduce exits and churning
Improve safety of workers
Stable and predictable pipeline
Recognition from industry as an innovator
Systematic approach to training
Return on investment
What is a Participating Employer?
A participating employer is a business entity who hires, employs, and pays the wages of apprentices. Employers match apprentices with journeyworkers who serve as guides to the apprentices. Apprentices are evaluated by mentors and assessed for apprenticeship advancement. To participate, an employer must enter into a written agreement with the Miami Dade College GNJ – Apprenticeship Program. Employer Agreements outline the minimum requirements established for each occupation, including learning outcomes, mentorship, progressive wages, and ratio of apprentice to journeyworker.
What's an apprenticeable occupation?
Any occupation is apprenticeable! You may select a registered apprenticeship from the U.S. Department of Labor Apprenticeable Occupation list or you may develop a customized program with MDC. Modern-day apprenticeships can be found in all industries, from traditional sectors such as construction and manufacturing, to emerging areas like information technology (IT) and healthcare.
Apprenticeable occupation programs include structured on-the-job training (OJT) and classroom instruction developed by industry leaders like yourself. If your company is looking to remain competitive in the local and global marketplace, an apprenticeship program can help you develop a well-trained workforce. MDC can assist you with developing an apprenticeship program based on your industry and/or tailor it to your business needs.
A registered apprenticeship program is ideal for:
Jobs for which it is difficult to find workers with the right skills
Positions with high turnover
Retiring workforce
Advancing industries
Positions requiring on-the-job training
Attracting new and more diverse talent pools