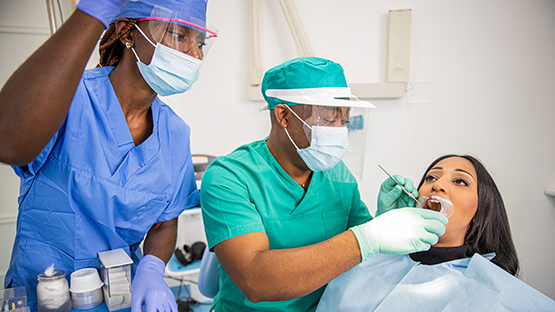 Program Overview
The Dental Assisting Technology & Management Program provides students with the essential experience, knowledge and skills required for entry-level employment within the dental industry. Students learn a broad scope of dental procedures, perform office management functions, and provide patient support. Students are taught to perform, related laboratory and office procedures and all delegable expanded functions permitted in Florida. Instruction includes lectures/laboratory coursework, hands-on clinical experience, and formal clinical internships.
Quick Program Highlight
Short Program Time

This program takes 1 year or less.
Program Details
The Dental Assisting Technology & Management Program is a Career Technical Certificate program that is three semesters of study requiring 41 CTE credits (1230 contact hours).
The Dental Assisting Technology & Management Program provides learning experiences that enable the student to acquire and assimilate the essential skills to become integral members of the dental team. This program is highly demanding, and students are therefore more successful if they do not work while in the program. If students must work for financial support, the program strongly recommends a limit of 20 hours of employment per week. Students should also consider family responsibilities before committing to a full-time accelerated program.
To facilitate the clinical portion of the program, students are assigned to a clinical facility within Miami-Dade County. Students are responsible for their own transportation to the campus and to various agencies in the community to which they are assigned for clinical experiences. Students enrolled in the clinical portion of the program are required to complete the Miami Dade College Student Health Record and criminal background check process.
Areas of Study:
Dental Radiology
Expanded Functions
Dental Anatomy
Dental Materials
Program Location
Questions about this or other programs at the Medical Campus?
Visit our virtual room to speak to an advisor. No appointment is necessary.
New Student Center - Room 1113
Monday - Thursday, 8 a.m. - 7 p.m.
Friday, 8 a.m. - 4:30 p.m.
Medical Campus address and directions