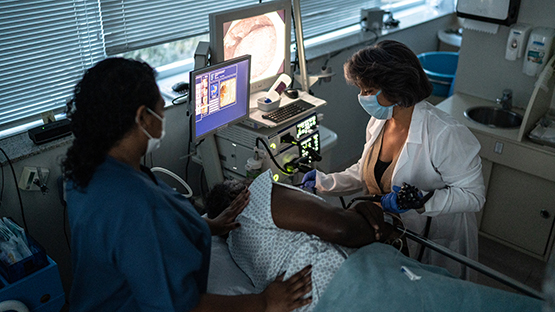 Program Overview
The Endoscopy Technician Program prepares students with experience, knowledge, and skills necessary to earn a nationally recognized industry credential and become a vital part of the surgical team. An Endoscopy Technician primary responsibility are preparing the operating room and the equipment, provide support to physicians and nurses while the procedure is underway, gather patient data and are also responsible for troubleshooting any issues pertaining to endoscopes, an instrument with a camera attached to its end.
They also communicate with appropriate health staff regarding findings, maintain a breadth of knowledge regarding the various endoscopic procedures. The endoscopy technician also plays an important role among the gastroenterology team throughout the endoscopy procedure by helping to prepare materials, obtain specimens, and maintain a sterile field during the procedure. The technician ensures that all equipment is functioning properly before use.
Quick Program Highlight
Short Program

This program takes 8 months (2 semesters)
Program Details
The Endoscopy Technician Program is a College Credit Certificates program that is a two semester course of study requiring 24 credits. Courses are offered mainly in the evening; there may also be a few morning offerings. The Endoscopy Technician Program provides learning experiences that enable the student to acquire and assimilate the essential skills to become integral members of a surgical team. This program is highly demanding, and students are therefore more successful if they do not work while in the program. If students must work for financial support, the program strongly recommends a limit of 20 hours of employment per week. Students should also consider family responsibilities before committing to a full-time accelerated program.
To facilitate the clinical portion of the program, students are assigned to a clinical facility within Miami Dade County. Students are responsible for their own transportation to the campus and to various agencies in the community to which they are assigned for clinical experiences. Students enrolled in the clinical portion of the program are required to complete the Miami Dade College Student Health Record and criminal background check process.
Areas of Study:
Introduction to Healthcare
Healthcare Lab
Endoscopy Technician Theory and Lab
Medical Terminology
Program Location
Questions about this or other programs at the Medical Campus?
Visit our virtual room to speak to an advisor. No appointment is necessary.
New Student Center - Room 1113
Monday - Thursday, 8 a.m. - 7 p.m.
Friday, 8 a.m. - 4:30 p.m.
Medical Campus address and directions