Nursing Simulation and Skills Laboratory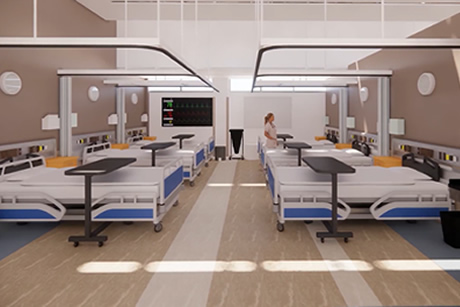 Improving Patient Care
The Simulation/Skills Laboratory at Homestead campus prepares individuals with the evidence-based principles and clinical skills they will need in real-world clinical environments by helping them reduce errors, improve safety, and elevate the quality of patient care.
Simulation/Skills Laboratory Description
The Simulation/Skills Laboratory is a supportive learning environment where evidence-based training is available for various disciplines such as Nursing, Physician Assistant, EMS, and Respiratory Therapy. Participants are afforded the opportunity to master skill application and clinical judgement in a non-threatening environment. Reflection during instructor-facilitated debriefing sessions fosters the integration of theory and practice, while promoting full spectrum learning.
The Simulation/Skills Laboratory includes 2 simulation rooms, 2 debriefing rooms, 2 skills wings, 1 health assessment wing. While at the Simulation/Skills Laboratory, participants will develop the necessary critical thinking skills to be successful in the healthcare field.
Debriefing Rooms
Debriefing is an indispensable aspect of simulation learning. In the debriefing rooms at the Simulation/Skills Laboratory participants review and evaluate their actions while focusing on best practices. During the debriefing sessions, individuals use observation and real time data video recordings to build on their knowledge. The video recordings allow individuals and instructors to evaluate methodologies, stimulate team cooperation and improve patient outcomes.
Simulation Hospital Guidelines for Requesting Appointments
In order to reserve a room/supplies, instructors must fill out and submit the form online under "Simulator Request Form" at the bottom right corner of this page.
Instructors must request to reserve a room/supplies at least one week in advance of the desired reservation date.
Instructors will receive an email confirmation validating the Room, Date, and Time. Supplies will be provided as available.
Instructors that have requested portable mannequins need to be at the classroom at time of delivery and must wait until it is picked up. No mannequins will be left unattended in classrooms or sent to the lab under a student's custody. Instructors are accountable for all equipment.
No food or drinks allowed.
No pens allowed, only pencils.