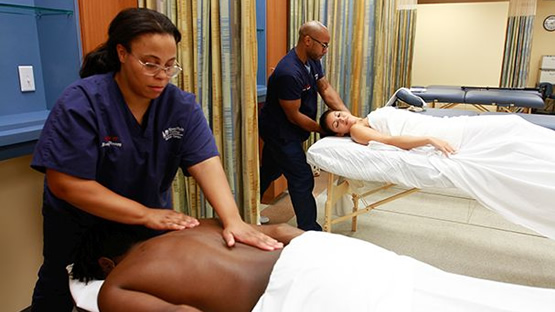 Program Overview
Massage Therapy is a profession in which the practitioner applies manual techniques, and may apply adjunctive therapies, with the intention of positively affecting the health and well-being of the client.
Therapeutic massage involves the manipulation of the soft tissue structures of the body to prevent and alleviate pain, discomfort, muscle spasm, and stress; and to promote health and wellness. Massage therapy improves functioning of the circulatory, lymphatic, muscular, skeletal, and nervous systems and may improve the rate at which the body recovers from injury and illness. 

Estimated Cost
Program Details
The Medical Campus Massage Therapy Program is a Career Technical Certificate program that offers three tracks – Generic Option, Accelerated Option and Transitional Option.
The Generic option is designed for those individuals that do not hold a current health care related certification/license. This option is a two-semester course of study requiring 25 vocational credits (750 hours). The Accelerated Option is specifically designed for graduates of an accredited college degree program for physical therapist Assistants or Physical Therapy. This option requires completion of specific generic option courses totaling 11.5 vocational credits. The last option, the Transitional Option, is designed for individuals that are licensed in designated health care professions. This option requires completion of specific generic courses totaling 17 vocational credits. 
If a student does not hold an A.A. or A.S. degree or higher before entry into the Massage Therapy Program, students must complete the Test of Adult Basic Education (T.A.B.E.) before progressing to the discipline courses.
This program is highly demanding, and students are therefore more successful if they do not work while in the program. If students must work for financial support, the program strongly recommends a limit of 20 hours of employment per week. Students should also consider family responsibilities before committing to a full-time academic program. 
To facilitate the clinical portion of the program, students are assigned to the on-site facility at the Medical Campus. However, the program does participate in off-site activities.  Students are responsible for their own transportation to the campus and to various agencies in the community to which they are assigned for clinical experiences. Students enrolled in the clinical portion of the program are required to complete the Miami Dade College Student Health Record and criminal background check process.
Areas of study in the program include:
Anatomy and Physiology
Hydrotherapy Modalities
Allied Modalities
Massage therapy clinicals
Career Prospects
According 2017 American Massage Therapy Association (AMTA), Massage profession research report, the average hourly income for massage therapists depends on the setting they are working.
For more information about the massage profession, you can visit the following websites:
Program Location
Student achievement outcomes
Program Retention Rate: 86%
Program Graduation Rate: 86%