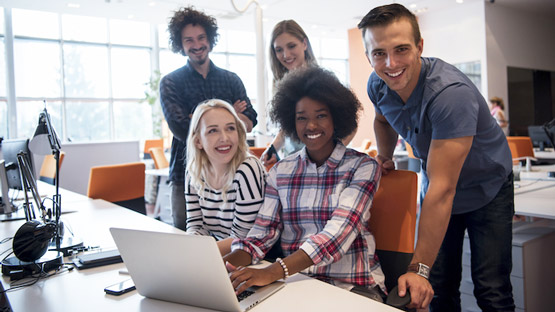 Program Overview
The Associate in Science (A.S.) in Entrepreneurship degree provides students with design thinking and decision-making skills and the confidence and relationships necessary to turn ideas into market-ready products, services, businesses or ventures. With cutting-edge curriculum and in-demand College Credit Certificates (CCCs) embedded into the program, the A.S. in Entrepreneurship provides the student with a competitive advantage.
Experience the success and satisfaction of life as a visionary entrepreneur, improving the world, creating jobs and providing a positive future. This degree will allow learners to understand the context, concerns and language of entrepreneurship and prepare students to break into the marketplace with their own business. Envision evolving a personal passion into a profitable family-owned business, start-up venture, or social venture.
Imagine being empowered by a program redesigned from the ground up from the Fernandez Family School of Global Business to prepare you for the challenges unique to the 21st Century, such as technological disruption and changing business paradigms.
Program Details
The A.S. in Entrepreneurship will help students to recognize and analyze a business opportunity and offers three track options: (1) Family-Owned Business (2) Start-Up Venture (3) Social Venture; these tracks allow students to earn two CCCs in the track of their choice as stackable credentials within the A.S. in Entrepreneurship.
Students will learn how to recognize opportunities, convert those opportunities into economic engines and combine digital and traditional marketing tools to brand self, acquire customers and grow their business.
Select Course Options (actual courses based on specific program):
Introduction to Entrepreneurship
Family Business Management
Marketing in a Digital World
Marketing Web Analytics
Entrepreneurial Leadership
Introduction to Lean Start-Up
Fundamentals of Changemaking and Social Innovation
Starting & Growing a Social Venture
Evaluating Social Impact
Funding Your Venture
Career Prospects
Entrepreneurs make up a diverse sector of the economy. Most businesses in the state of Florida are small businesses accounting for 44% of private sector jobs. These types of businesses form the backbone of the U.S. economy, representing 98% of all U.S. businesses. A 2013 study showed Miami as a powerful economic engine with the highest rate of entrepreneurial activity in the country.
Eighty-six percent of U.S. millionaires are self-made, with 21% gaining their wealth from the sale of a business. Many of the most entrepreneurial innovators are immigrants. Despite accounting for only about 13 percent of the population, immigrants now start more than a quarter of new businesses in the U.S. More than 20 percent of the 2014 Inc. 500 CEOs are immigrants.
Many students will emerge from the program to found their own companies. Others will be early-stage employees by joining a start-up team, or they may develop a business idea in their free time, becoming "second job entrepreneurs." Graduates will be valued as top "intra-preneurial" employees at large enterprises, based on the strength of their entrepreneurial outlook, mindset and skills.
A degree in Entrepreneurship prepares students for employment in a number of areas such as:
Start-up strategy and execution
Product development
Project management
Digital and social media marketing
User experience design
Human resources and team management
Organizational development
Program Location