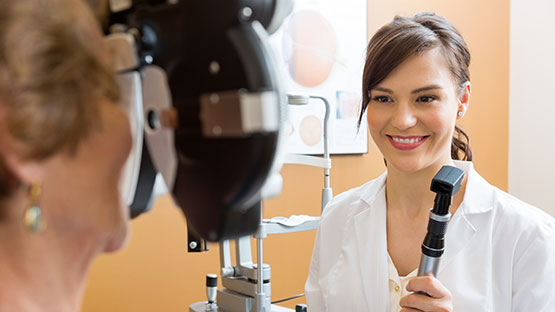 Program Overview
The Opticianry (Vision Care) Program prepares the student to become a Licensed Optician.
As qualified members of the ophthalmic vision care industry, graduates will have the opportunity to work with opticians, optometrists, and ophthalmologists in private and retail settings. Once licensed, an optician may also be independent and own his or her own business. The program has over an 85% pass rate on both national and state examinations.
Estimated Cost
Student Testimonial
Program Details
The A.S. degree is designed for students who are looking for immediate entry into a career upon graduation. Most discipline courses directly relate to the identified career area. The remaining courses are comprised of general education courses.
The Associate in Science Degree in-discipline courses, accredited by the Commission on Opticianry Accreditation, is taught over five semesters and simultaneously prepares students to work in various ophthalmic health areas upon program completion. Areas of study include:
Geometric Optics
Ocular Anatomy
Dispensing
Fabrication
Refractometry
Contact lenses
Career Prospects
Most graduates find employment prior to graduation. Students who pursue this course of study may find employment in job roles such as:
Licensed Optician
Optician Owner
Program Location